Wordpress Plugin
Administration Screenshot: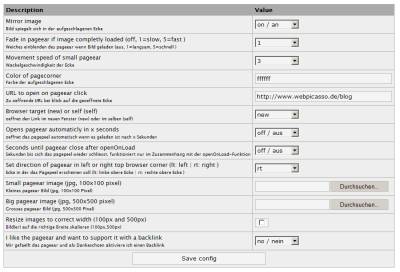 Installation (de):
- Packet herunterladen und entpacken.
- das komplette Verzeichnis "pageear" auf den Server unter wp-content/plugins/pageear/ hochladen.
- In der Wordpress admin auf Plugins gehen und pageear aktivieren
- Unter Plugins gibt es nun einen neuen Navigationspunkt "pageear-config" über den das pageear eingestellt werden kann.
Installation (en):
- Download package.
- upload complete directory "pageear" to your server in wordpress directory wp-content/plugins/pageear/ .
- Login into wordpress backend and go to plugins and activate pageear plugin
- Now you find a new link in plugins called "pageear-config". There you can edit your pagepeel.
-> Lizenzvereinbarung lesen / read license agreements <-
Download: PageEar v1.2a - Pagepeel Wordpress Plugin
09.07.08: I fixed the pageear to avoid to be blocked by popup-Blocker. Version number is the same. 
IMPORTANT for install: If you installed pageear plugin than  go to new navigation point under plugins called "Pageear-config" and press update button. Otherwise the path to your pageear images are not correct!!!!